Remember how I mentioned that little time period in the middle of the day called nap time? And how I tend to get "hungry" and want to munch on anything that isn't healthy? BAM. Beat that down to the ground this week. I planned for it, so the pretzel braids I had were no big thang and I topped it off with a handful of grapes. It was perfect. Oh if only every day were so simple as this.
It's only been a couple of weeks since I've started losing weight for real, but it's been years in the making of changing my life style and food habits. I've always known the basics, that I need to eat way more fruits and vegetables and limit the carbs but still include some. I know that I need to eat good fats and not just avoid all of them altogether. I've been working on eating more protein and reducing but not eliminating dairy. Seriously, it's a huge process. But. the results are pretty incredible. You guys, I love so many more varieties of food. I love Indian, real Chinese (not Americanized), Thai, and Italian (of course). American food in all of its fatty goodness doesn't have as much appeal to me lately. I still make it, for the family of course, but overall I've been leaning more towards recipes centered around vegetables and spices with a lot of flavor. My taste palate has changed immensely. I am absolutely loving eating vegetables like crazy and have tried a bunch of new recipes, almost all of them being successes with myself and the family. I don't want as much sugar (although I still have enough to not go crazy binging later). Seriously, if I can keep this up and make it a legit lifestyle change, then I'll be golden for never gaining it back.

This week, I started doing the 30 Day Shred (Jillian Michaels). It's not so bad, although I can't say that I am doing every single second of it. I still take 5 second breaks every so often but yes definitely there is a difference already... three days in. I love that it is short, but I can see how boring it will get if I don't mix it up. Mostly, I am doing it because it's not running and it's not walking so my foot is less affected. I still feel some foot pain though, so I need to watch it.
And lastly, I am feeling comfortable in my clothes more and more. It helps that I just stocked up on a few more tank tops, but this is one of the perks that I most look forward to. Being comfortable makes such a huge difference when it comes to repeated success in this process. (Don't I sound like such an expert? Ha.) When you feel good, you want to keep feeling good, right? Take it and run, girl. (A little self pep talk never hurt anybody!)
And now for the weigh in results. 3.2 lbs down this week! That's a great amount, although Weight Watchers is telling me it's too much in one week. I'm not too worried about it since I am working out and doing some strength training. My total weight loss is 10.2 lbs. A great start.
As always, check out KTJ Weighing In for more inspiration and Non Scale Victories.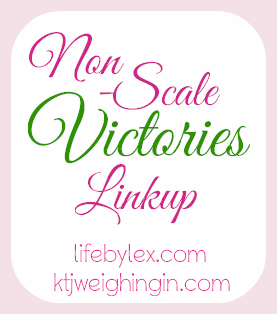 For your convenience, you can follow Living with Intention by choosing one of these options: