I haven't done a link up in foreverrrrr so why not start the year out right?
I'm saying so what! if...
All the cool kids are having a theme word instead of resolutions this year and I'm still just sticking with the good old "eat better and exercise" resolution that I have every year. Don't worry, I'm 1/1 so far. Off to a good start!
Preschool starts tomorrow for our lfb (little foster boy) and I'm kind of excited to just have a quiet morning. One girl napping while the other one reads books to herself for most of it... I kind of love it.
I've skipped over almost every single "year in review" blog post that I've come across because if I'm following you, I've already been reading all of it and don't need the review. Don't be expecting one over here, folks. It's not going to happen.
I made the best menu plan this week and the kids don't even appreciate it. Tacos, hawaiian pizza, and meatloaf (I make a mean meatloaf, thank you mom for that recipe). I've been excited to be in the kitchen, which hasn't happened in months. (The no-kids-in-the-kitchen rule helps a wee bit.)
The weather is ridiculously cold (the high has been a negative temp. negative, as in below zero.) and I'm not too upset at this point because I loooove my coffee and snuggling up on the couch with a blanket and a kid or two on my lap. It's so picturesque and honestly sometimes it really does play out as perfectly as I describe it.
Christmas decorations are taunting me. Noooooooo.... I don't want to. I just don't want to.
I stopped at my MIL's house to drop something off and completely biffed it as I got out of the vehicle. As I was falling (in slow motion, you know how it is), I positioned my body so I'd fall completely flat on my back instead of on my hands or bottom and it was the best decision ever. My puffy coat took the brunt of it and my back cracked in all the right places. Who needs a chiropractor? Just wear Uggs on a patch of ice and let the puffy coat do it's job.
Linking up with Shannon over at
Life after I Dew
for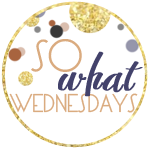 . Check out the link for more!